Baccy Roots Eliquid Five States
Juice
Manufactured by:

Doozy Vape Co
£14.99 GBP

New
View Larger
Baccy Roots Five States 50ml Eliquid
Baccy Roots is an innovative and premium tobacco eliquid High VG vape juice range from UK brand Doozy Vape Co. Doozy Vape Co are the team behind Sweet Treats, Juice Junki, Big Drip and Doozy Cocktails. They focus on a higher quality product and with this Baccy Roots range, their goal is to make something for those that want the tobacco flavour, not the fumes.
What Kind of Vape Kit is best for Five States Ejuice?
Baccy Roots 50ml version, is a high VG e-liquid. This means it is best used in a vape tank that has a lower than 0.6 ohm resistance, with a wattage that can fire 25 watts and above. We call these types of tanks, 'Sub-Ohm' and have a tendency to create a larger vapour cloud than more simple ecigs.
What does Five States vape juice taste like?
5 States has a flavour profile including:
Nut
Dark Chocolate
Dark rich tobacco
Specification 
50ml shortfill vape liquid
70% VG 30% PG
0mg nicotine
UK Shipping
We offer a free UK Standard Royal Mail Shipping Service that is carried under 2nd Class.
This is advised as 2-5 working days after day of order.


Royal Mail 1st Class - 1-2 working days


Royal Mail Signed for - 1-2 working days requires signature at residence.


Express Next Day - If order placed before 4pm Mon - Fri, will be received by customer next working day


Want SAMEDAY Vape Delivery? Check out our sister site: Vaperun.com




International





Standard Shipping EU - 7-10 Working days


Express International EU - 5-7 Working days


Signed for International (All World) - 5-7 Working days



Please note that only orders that are placed before 4pm will be processed for next day delivery if it is chosen upon checkout. Orders placed after 4pm will be processed the following morning.
Vape Juices and Kits shipped to Australia, Germany, USA, New Zealand, Tunisia, Hungary, Spain, Sweden, Denmark, Norway, Finland, South Africa and many many more countries besides.
Customer Reviews
11/07/2019
Alex G.
United Kingdom
Not to bad!!!
It's not a bad juice actually, not sweet enough for me. I have a geek vape Regis and the cloud is brilliant, the juice definetley lasted longer than what I'm used to. However the smell from the vape was very much like tabacco and my wife didn't like this at all. If your happy with the tabacco smell then this Is the juice for you. When inhaled its smooth and you definetley get that hit at the back of the throat. For the price I'd say its well worth the money.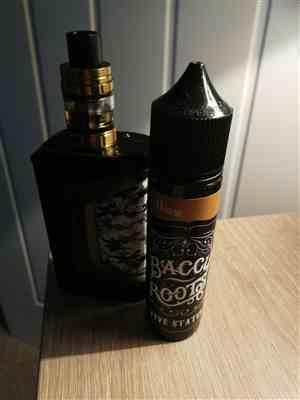 11/07/2019
Vape and Juice
Hello! First of all thanks for taking the time to leave a review, we really appreciate it! Glad you enjoyed the juice, shame about the smell! We've taken this on board and will; change our product description to let people know it will smell.
Related products
Only 10 products left! From £17.99 GBP
Only 9 products left! From £17.99 GBP
Only 9 products left! From £17.99 GBP