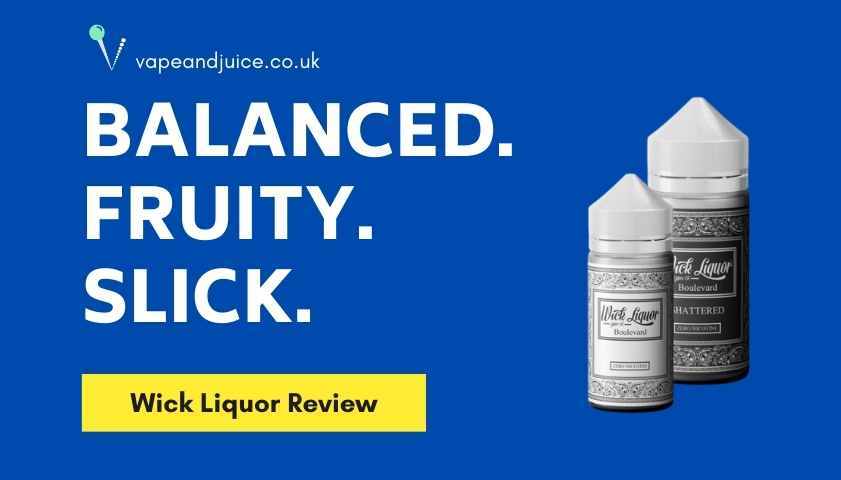 7 Flavours - 1 AMAZING Flavour Hack
---
Wick Liquor Review time. these folks have 7 BIG VG Liquid and salts flavours, all of them either based on fruity blends, sometimes with a little cold twist. We review Wick Liquor Liquids the vaping brand and give our honest advice on them.
---
Time for our Wick Liquor review. We take a closer look at the premium UK juice creator, specializing in your high VG shortfalls and your stronger dose of nicotine salts.
When we first came across this brand we liked their classy and slick branding. We were excited by the different names and flavors we'd not come across in a vape before.
Here's what we thought of the UK based, Wick Liquor.
---
Wick liquor do something pretty cool actually. All of their flavors come in both 50ml and 100ml shortfalls as well as nicotine salt juices.
What do others have to say?
---
Before we crack on with our Wick Liquor review, we had a little sniffing around and saw that they had previously been reviewed by Flat Peak Vaper on Youtube who said:
"Wow. That is beautifully put together"
Cracking on with our Wick Liquor review
We're going to take a look at the flavour, cloud production, best sellers and overall thoughts in our review of Wick Liquor E-Liquid, as well as sharing a flavour hack.
We'll also let you know about the type of kit you want to be using with each type.
Wick Liquor shortfills are high in VG (80%) and come as nic-free generally. They do have a salt line which are available as 20 mg or 10 mg in 10ml.
---
Wick Liquor has a couple of different versions of their flavours. So you've got your salt based juice and then your high vegetable glycerine ones. Your salts aren't designed for cloud production, so don't expect that you'll fill a room using these.
However, the ones high in VG are going to kick out some cloud!
We like that there are different versions of the same flavor. You can get your shortfalls as well as your nic salts.
This means that if you are someone who craves nicotine but also likes big clouds, you can enjoy the flavor you love whichever device you are using. You might have a pod kit for you salt liquids, and a cloud kit for your high VG, you can then keep the same flavour across both.
The versions also expand to cold vapes too. So the same flavour, but on ice.
Deja Voodoo is a blend of Sugar cane and coconut husk.
Sweet and perfect for those who love a dessert based f
A refreshing and tart blend of vine citrus and porta fortuna compote.  
There is also a cold version of this called Contra Shattered. We love a cool exhale, and this has exactly that.
BIG SELLER from Wick Liquor is Boulevard, which is a fruit punch blend with a loganberry twist. The tart and flavourful loganberry really comes through
It also comes in a cold version, Boulevard Shattered.
Flavour
The favours are all perfect for all day vapes. We didn't find that they got sickly or too overpowering. They're well balanced flavours, we particularly liked the cold ones with an icy exhale.
KEY TIP: FLAVOUR HACK
Here's a great hack we're sharing in our Wick Liquor review. If you want to make the flavour even stronger for your shortfill then you can also add your nicotine salts liquid to it. This creates a stronger nicotine dose in your cloud kit, without reducing the flavour by adding flavourless nic shots.
Best device type for Wick Liquor 
This will depend on which type of juice you are using.
You should be using a sub ohm kit for your 50ml and 150ml shortfills. For your 10ml salt you will want a more modest starter or pod, with resistance above 1ohm.
Overall thoughts for our Wick Liquor review
Wick Liquor has a selection of fruity flavours, some with a cold twist. We loved the fact that you can get different versions, in both bottle size and type of liquid. This means you never have to be without your favourite flavour, whichever device you are using.
All in all the flavours are great and a little unique. I mean, not many juices have loganberry flavours! Perfect all day vape that didn't get sickly.
What is the best Wick Liquor Vape Juice?
The best Wick Liquor vape juice according to sales at Vape and Juice online, is Boulevard. Boulevard outsells every other flavour in the range by a country mile. Scoring five stars consistently. Whether it's Boulevard salts, or their cloud friendly big bottle variety, Boulevard wins every time. If you haven't tried it yet, click below to shop online.
Final Guide on our Wick Liquor Review
"Wick Liquor Review done! Before I go though, a few thoughts. I really like their team, they come across as humble and you can see that in their no nonsense labelling. Something they discussed actually that hurt them last year, as their brand got faked an awful lot. I know that part is being fixed with some new unique identification designs, but it's always been their flavours that made them stand out. I pack the envelopes sometimes and I know how many times I'm visiting the Boulevard shelf! There you go, a Wick Liquor Review for you to consider."